【product name】: type 5 protective clothing against solid particles
【Some technical standards】: GB 19082-2009
【product filing】: gjxb 20200006
【product specification】: M / L / XL / XXL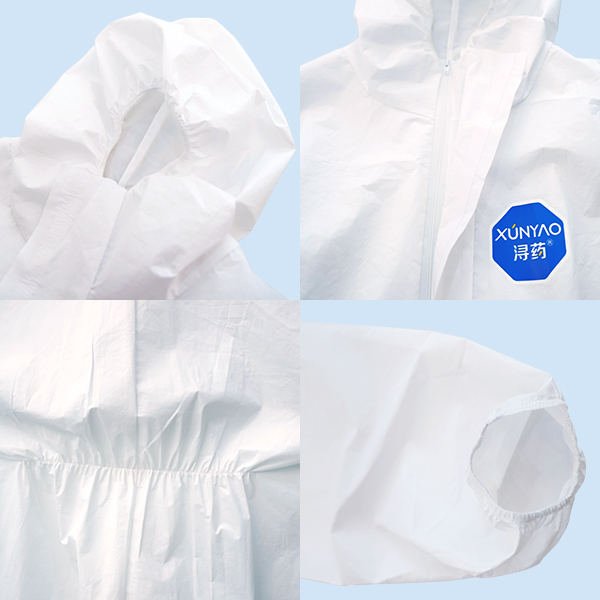 【production process】: the composite non-woven material made of three-layer medical non-woven fabric is cut and sewn.
【materials used】: three layers of super thick non-woven fabric + PE film covering, a total of four layers of strong protection.
【product design】: elastic closing design of hands, feet and face can effectively block harmful particles. Pasted placket can effectively block the gap of zipper and prevent the invasion of harmful substances.
【performance advantages】: it has the characteristics of non-toxic, tasteless, efficient bacteria isolation, light and breathable. Through the special treatment of the equipment, it can achieve antistatic, anti alcohol, anti human blood, body fluids, secretions and other properties.
【use environment】: for medical institutions, outpatient, general ward, laboratory and other work and medical personnel as general protection.
【instructions for use】:
Wear: take out the protective clothing, open the zipper, put on pants first, then the coat, and finally put on the hat to fully cover the clothes inside, pull the zipper and stick the placket
Take off: tear the placket strip, open the zipper and pull up the hat to make the head off the hat. Take off the sleeve, coat and trousers of the contaminated side in turn, and put the used protective clothing into the medical waste bin.
【manufacturer】Jiujiang high tech Pharmaceutical Technology Co., Ltd
【registrant】Jiujiang high tech Pharmaceutical Technology Co., Ltd
【registered address】Jinsha South Avenue, Hukou high tech Industrial Park, Jiujiang City
【production address】 Jinsha South Avenue, Hukou high tech Industrial Park, Jiujiang City
【Tel.】 0792-6383888
【postcode】 332500
【contact information of registrant】0792-6383999

【address of national marketing center】 south block, 3 / F, building D, Haizhu science and Technology Pioneer Park, No. 189, nandunhe Road, Guangzhou Avenue, Haizhu District, Guangzhou city
【Tel.】020-84216188 84216189
【postcode】510230